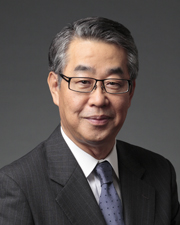 Dear JCSS members,
It was my pleasure to be appointed again as President of JCSS at the time of the annual meeting held in June, 2015. This is my last two years since I became the President in 2007 I highly appreciate your continuous support to our activities.
JCSS celebrate its 40th anniversary this year. The Annual Meeting and the Education Seminar will both celebrate the 40th session. Special Commemorative Journal with more than 250 pages published in June after 2 years of preparation, featuring history and memories of JCSS and our studies including vision for future. 20 years ago, a Special Issue of Journal published celebrating 20th anniversary. We can realize our remarkable work done in the last 20 years by reviewing the last publication.
By all means, it worth reading carefully by all means.
Learning from past history, JCSS has already started activities towards study of vision for the next 10 years, 20 years and we founded two committees in the current fiscal year. One of them is Planning Committee which is responsible for fundamental reforms such as re-definition of the significance of existence and the field of JCSS, planning and implementation of joint projects with external organizations. The other one is Tripartite Coordinating Committee comprising of members of cosmetic industries, pharmacology and dermatology for planning and implementation of collaborative activities with the aim of contribution to the improvement of cosmetic science, such as revision of the functional cosmetics guidelines. We will review the operation of Annual Meeting and also promote recognition activities of JCSS through the various committees.
"Photo-aging recognition campaign" is one of the specific activities that I informed in the Annual Meeting in last June. There is no doubt about the common understanding of our members of JCSS in regard to "Photo-aging" as skin disorder caused by sunlight, namely, stains, wrinkles, sagging, finally skin cancer development. According to a study of recognition of the term "Photo-aging", we have found that it is not more than 5% in general person.
JCSS created the guidelines for novelty claim of sunscreen products, five years ago. We proposed "To prevent Photo-aging or wrinkles and stains caused by prolonged exposure to ultraviolet light by using the product routinely" as a claim for the products having sufficient sunscreen effect, however it was not approved. Unfortunately, as one of the reasons was the low recognition of the term "Photo-aging" in those days.
However, avoiding exposure to excessive sunlight with sunscreen products to keep the skin healthy is not just a cosmetic matter, besides the fact that extends the public healthy life expectancy. It also leads to QOL improvement and further reduces medical expenses. JCSS will take positive initiatives to improve a recognition of this term collaborating with other dermatological societies. Taking a variety of measures, we make an effort with the goal of recognition of "Photo-aging" by public and consumers.
I would like to ask all of members your warm support and cooperation.
Makoto Kawashima, MD, PhD
President of Japanese Cosmetic Science Society
October 2015